WEBINAR "THE NCKU BRIGHT FUTURE - SCHOLARSHIP PROGRAM"
Every year, NCKU OH organizes the annual young talent cultivation program where all the information on admission, scholarships, and exchange programs offered by NCKU is assembled as a response to Vietnamese and international students' interests. Following those three achievements and successful events "The Future Begins Here" in 2020; "Fly High With NCKU" in 2021; "Achieve Your Dream" in 2022, the 4th event of NCKU OH officially launched with the theme of the "NCKU Bright Future – Scholarship Program" on August 3rd, 2023. The webinar aimed to help students to gain general knowledge about NCKU and provided them with the opportunity to have experience studying in the international environment of NCKU. Also, this is an occasion to foster a spirit of learning and self-development among students and to spark their bright future at NCKU.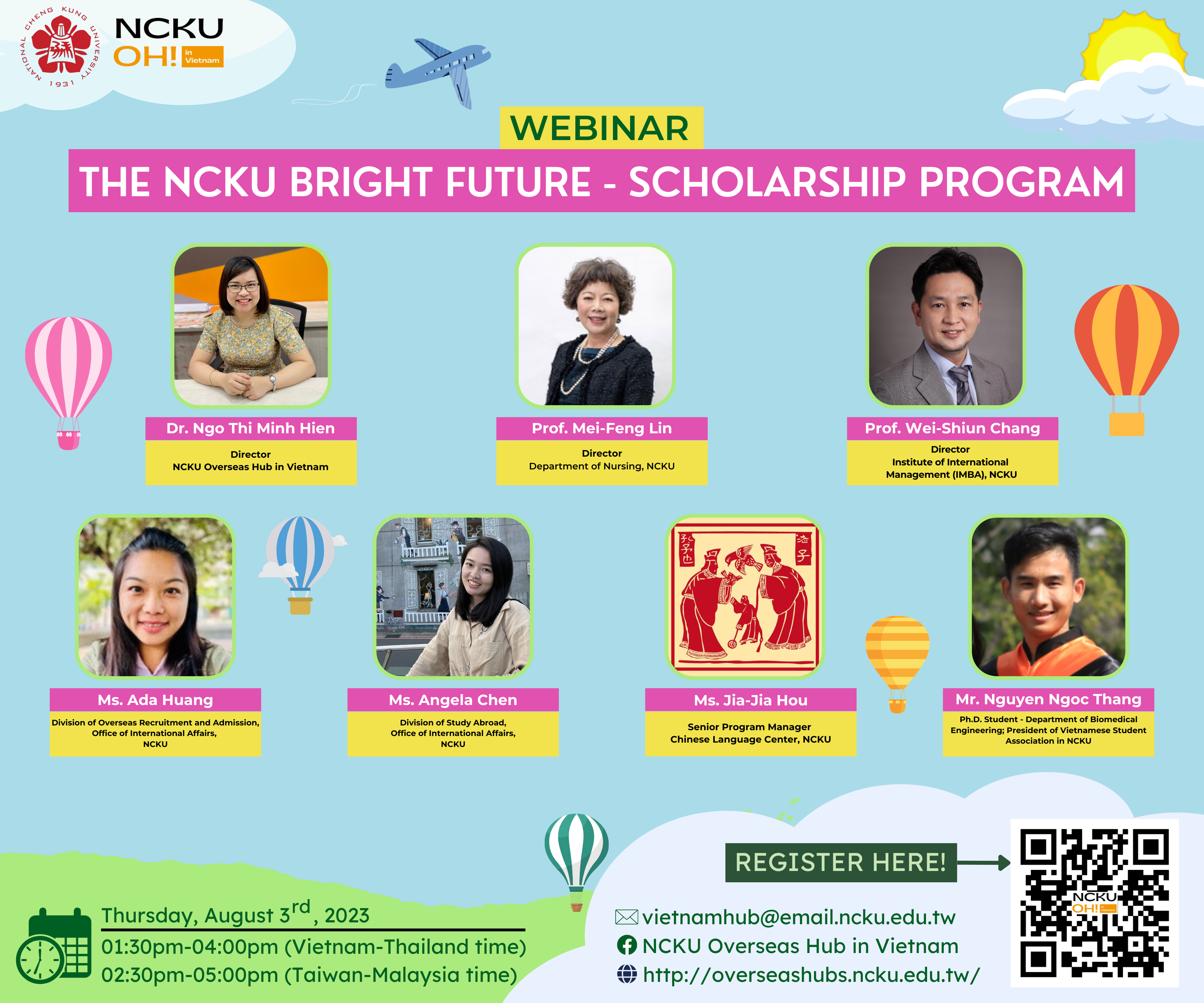 The Webinar was hosted by NCKU Overseas Hub in Vietnam and had the privileged presence of the Office of International Affairs and featured Professors and speakers from various academic Departments in NCKU: Dr. Ngo Thi Minh Hien - Director of NCKU Overseas Hub in Vietnam; Ms. Ada Huang - Coordinator of Division of Overseas Recruitment and Admission, Office of International Affairs; Ms. Angela Chen - Coordinator of Study Abroad, Office of International Affairs; Prof. Mei-Feng Lin - Director of the Department of Nursing, NCKU; Prof. Wei-Shiun Chang - Director of the Institute of International Management (IMBA); Ms. Jia Jia Hou - Senior Program Manager of Chinese Language Center; Mr. Nguyen Ngoc Thang - Ph.D Student, Department of Biomedical Engineering, President of Vietnamese Student Association in NCKU.
The Event has brought together scholars, researchers, educators, practitioners, and students from various disciplines and regions: 36% Graduate students, 36% Undergraduate students, 12% University staff, 6% high school, 4% Industry, 4% Hospital and 2% Government. The percentage of participants joining the event led to the confirmation, an increase in the prestige of NCKU and the great interest in overseas studying in general and NCKU's scholarship in particular.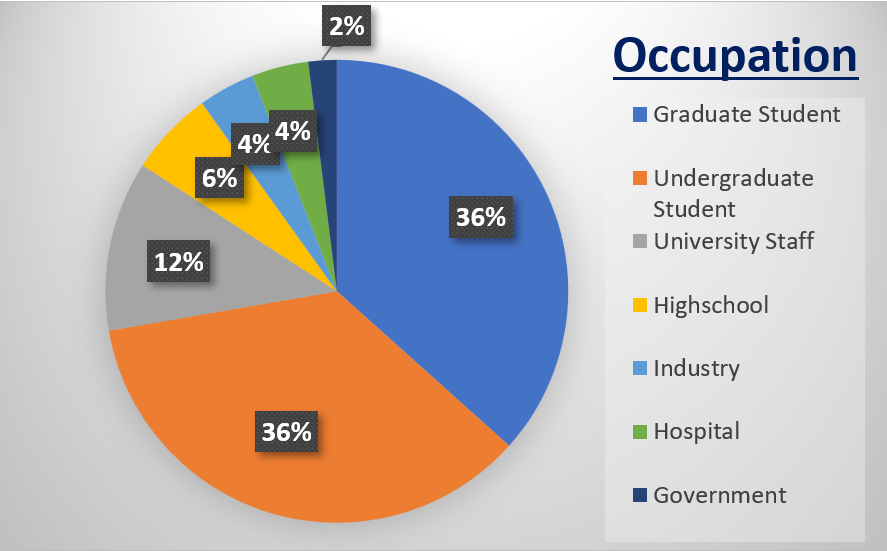 Occupation of Participants
The Opening Remark led by moderator Dr. Minh Hien. Beginning with a welcome message Dr. Minh Hien introduced the main objectives of the Webinar, which were to inform prospective students about the eligibility criteria, application process, and benefits of the scholarship programs, as well as to answer participant's questions and concerns.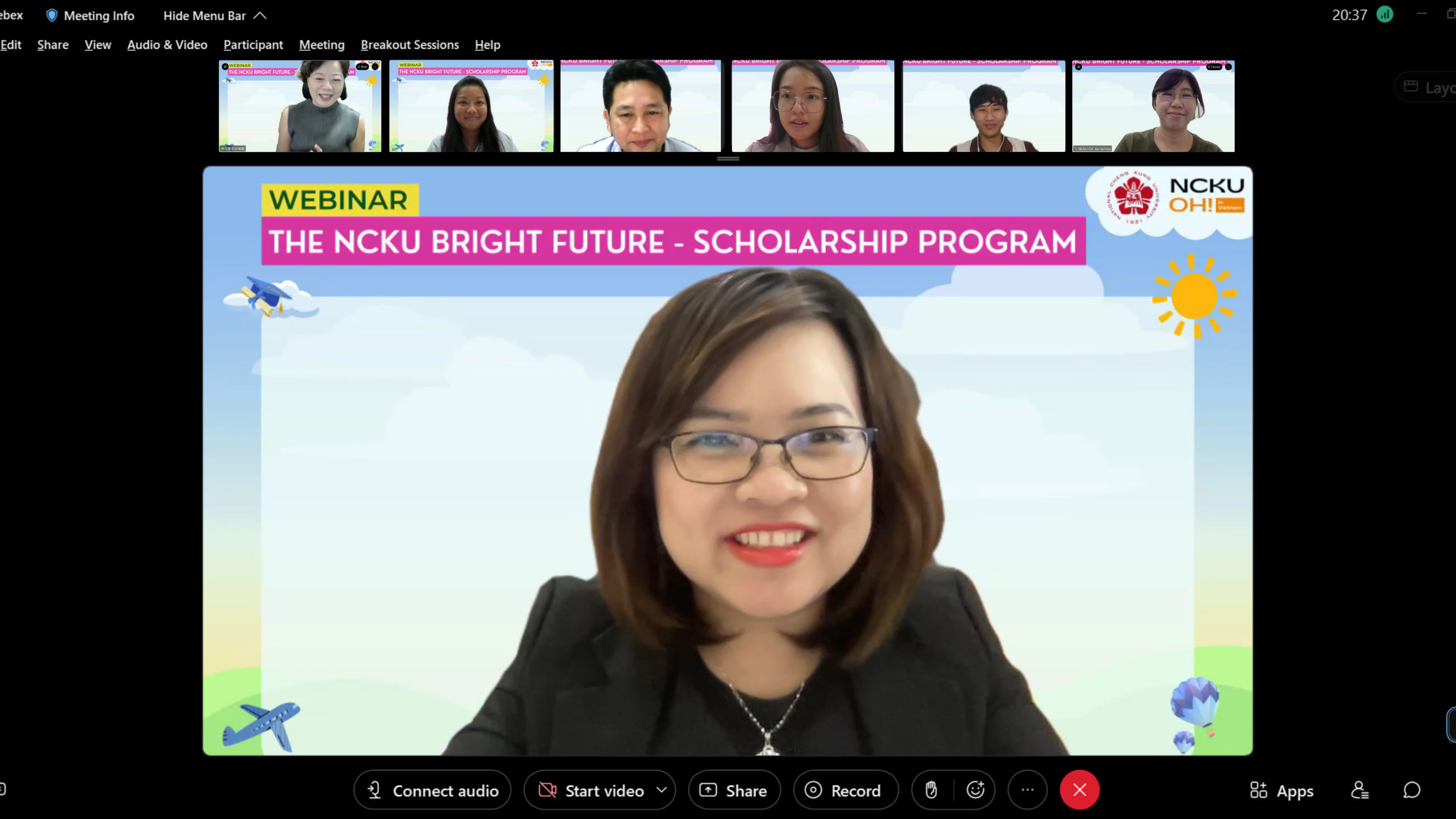 Moderator Dr. Minh Hien commenced the Opening Remarks
She also expressed appreciation to the Speakers and all participants joining the Webinar with a Group photo.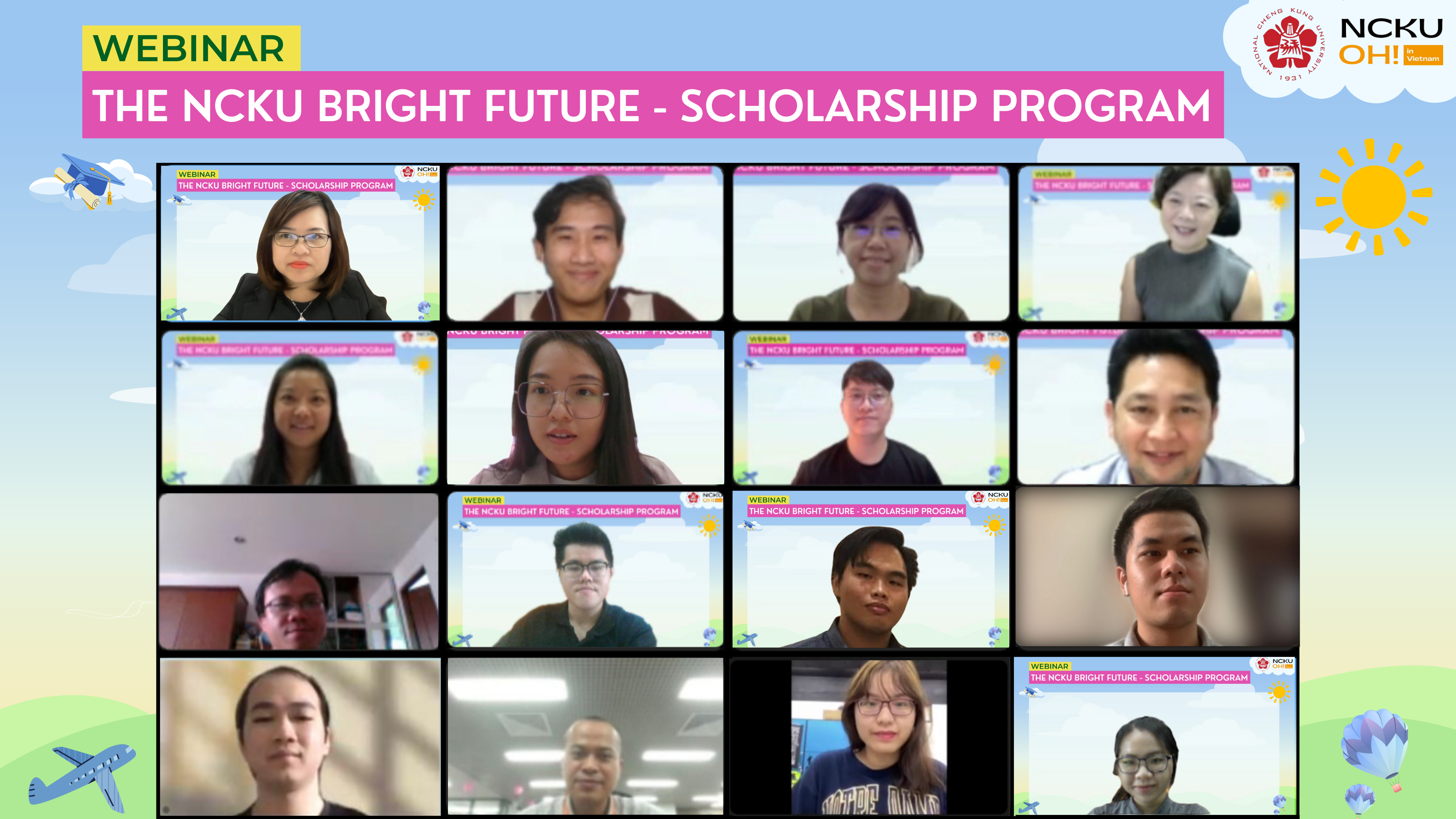 Group Photo
The Webinar started with a welcome presentation by Ms. Ada Huang and Ms. Angela Chen from OIA who highlighted the importance of international student and cultural exchange. Ms. Ada Huang introduced detailed information about National Cheng Kung University such as high-qualified and strong teaching staff, attracting thousands of both domestic and international students, including NCKU has a strong teaching staff of up to 1.346 lecturers, 2.172 staffs, a number of undergraduate students up to 11.441 students, 8.514 Master's students and 1.818 Ph.D. students. With more than 20.000 students, NCKU has 2.119 international, overseas and mainland Chinese students, from more than 76 countries or districts and 5 continents. As one of the top Universities in Taiwan, NCKU has outstanding rankings such as Top 1 Impact Rankings in Asia (According to THE World University Rankings); Top 41 QS University Rankings Asia; Top 252 QS World University Rankings. Moreover, Ms. Ada Huang clearly shared about scholarship programs applied for Spring and Fall semester and got into details with different types of scholarships from the Taiwan government (MOE, MOFA, MOST, etc). Transiting to the next slide, Ms. Ada Huang caught the candidates' attention with the important timeline as well as the necessary documents to prepare for the application carefully. The application for admission was comprehensively instructed to ensure students/researchers would make it properly.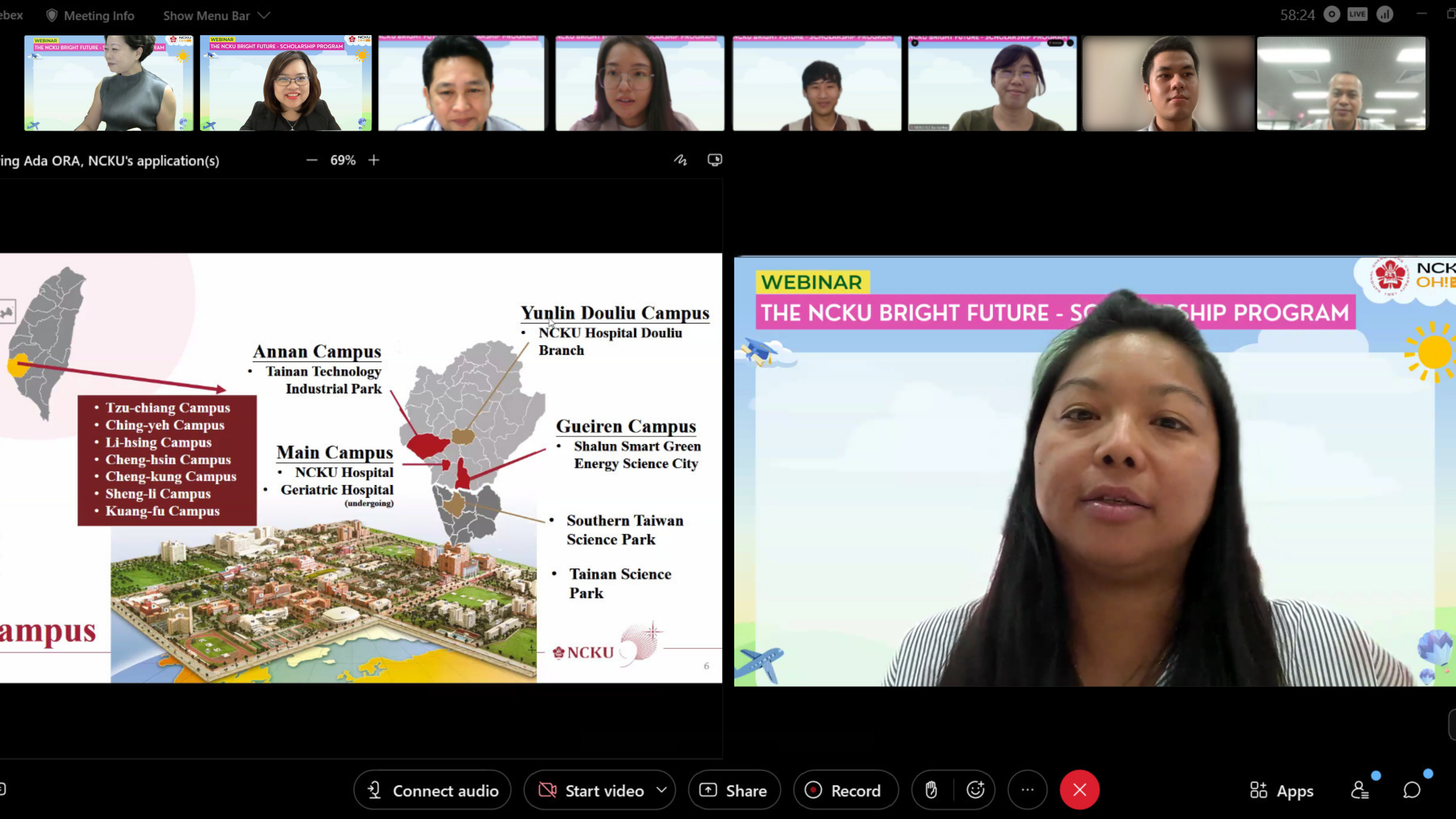 Ms. Ada Huang introduced the summary of NCKU and the Scholarship Program
Next, Ms. Angela Chen gave a brief presentation on the Student Exchange Program at NCKU including 2 semesters: 2024 Spring (Deadline: October 1st) and 2024 Fall (Deadline: April 1st), and the duration of which is 5 months. In addition, Ms. Angela introduced the upcoming Internship program of Taiwan Experience Education Program (TEEP) which provides international youths to experience Taiwan higher quality education and connect with the Asian job market (Deadline: December 2023); and International Internship Pilot Program (IIPP) which recruits international students to join a 3-month internship in universities of Taiwan (Deadline: October 2023). Both of the Speakers from OIA showed an expectation of international talents and especially hope to attract more Vietnamese students.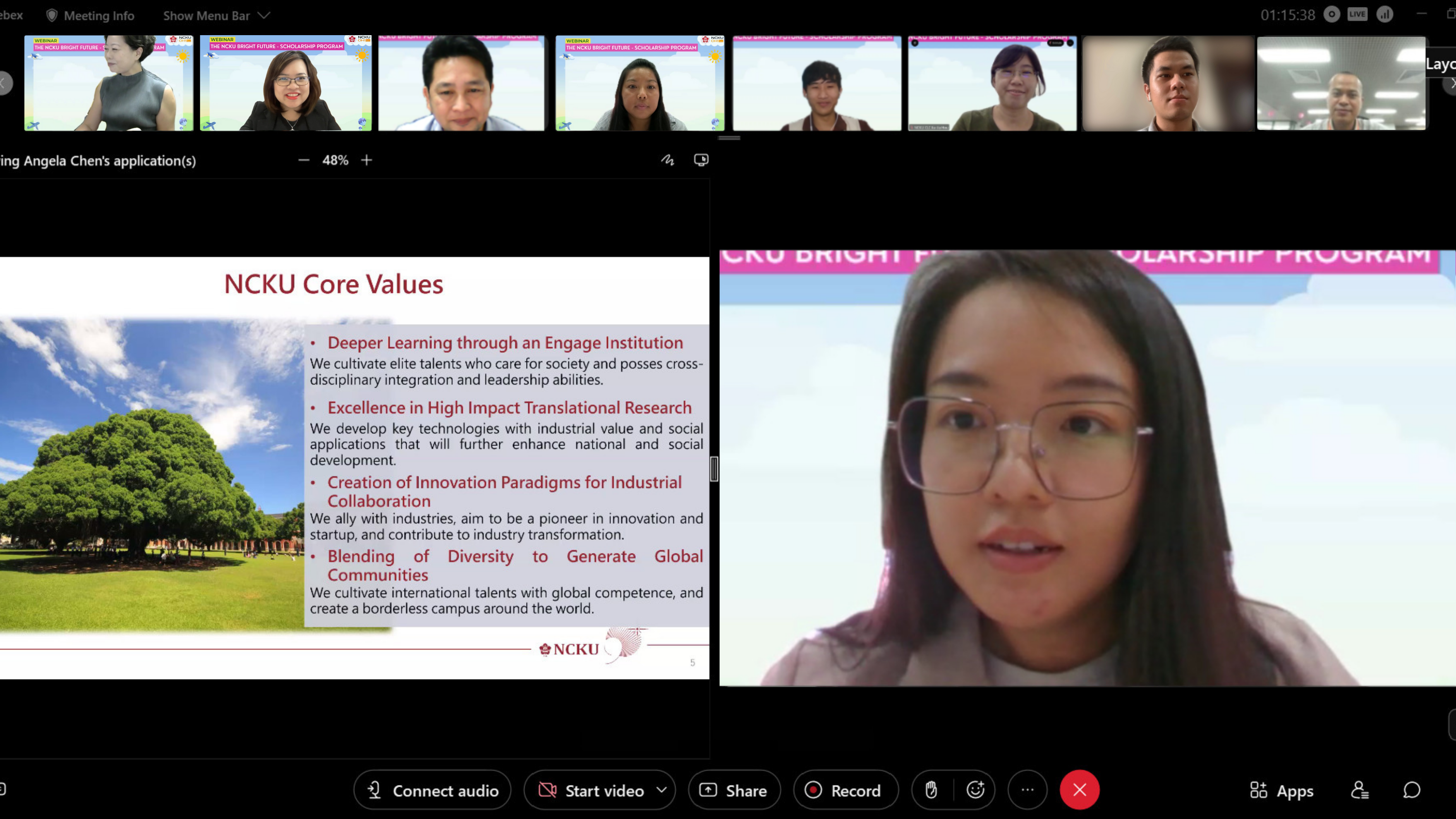 Ms. Angela proceeded with OIA's presentation with the news on NCKU Exchange and Internship Program
The NCKU scholarship was continuously informed by the Department of Nursing. As a prestigious representative, Prof. Mei-Feng Lin expressed her enthusiasm to share information about the Department, Prof. was delighted that there is an increase of Graduate international students in Master Program every year. The curriculum of the International Advanced Program in Nursing (IAPN) for Master degree includes 36 credits and also International Doctoral Program in Nursing (IDPN) for PhD study. The research fields in the faculty are Oncology & Palliative care, Gerontology & Long-term care, QOL, Health and Care, Leadership, Management Education, Infant and Family Health, Symptom Management and Behavioral Health. Scholarships provided in the program include The Ministry of Foreign Affairs (MoFA) Taiwan Scholarship, The Ministry of Education (MoE) Taiwan Scholarship, NCKU Veritas et Conscientia Scholarship (VCS), NCKU Distinguished International Student Scholarship. At the end, Prof. Lin showed a life prototype of International students studying at NCKU including celebrating festivals and cultural activities to connect international students together.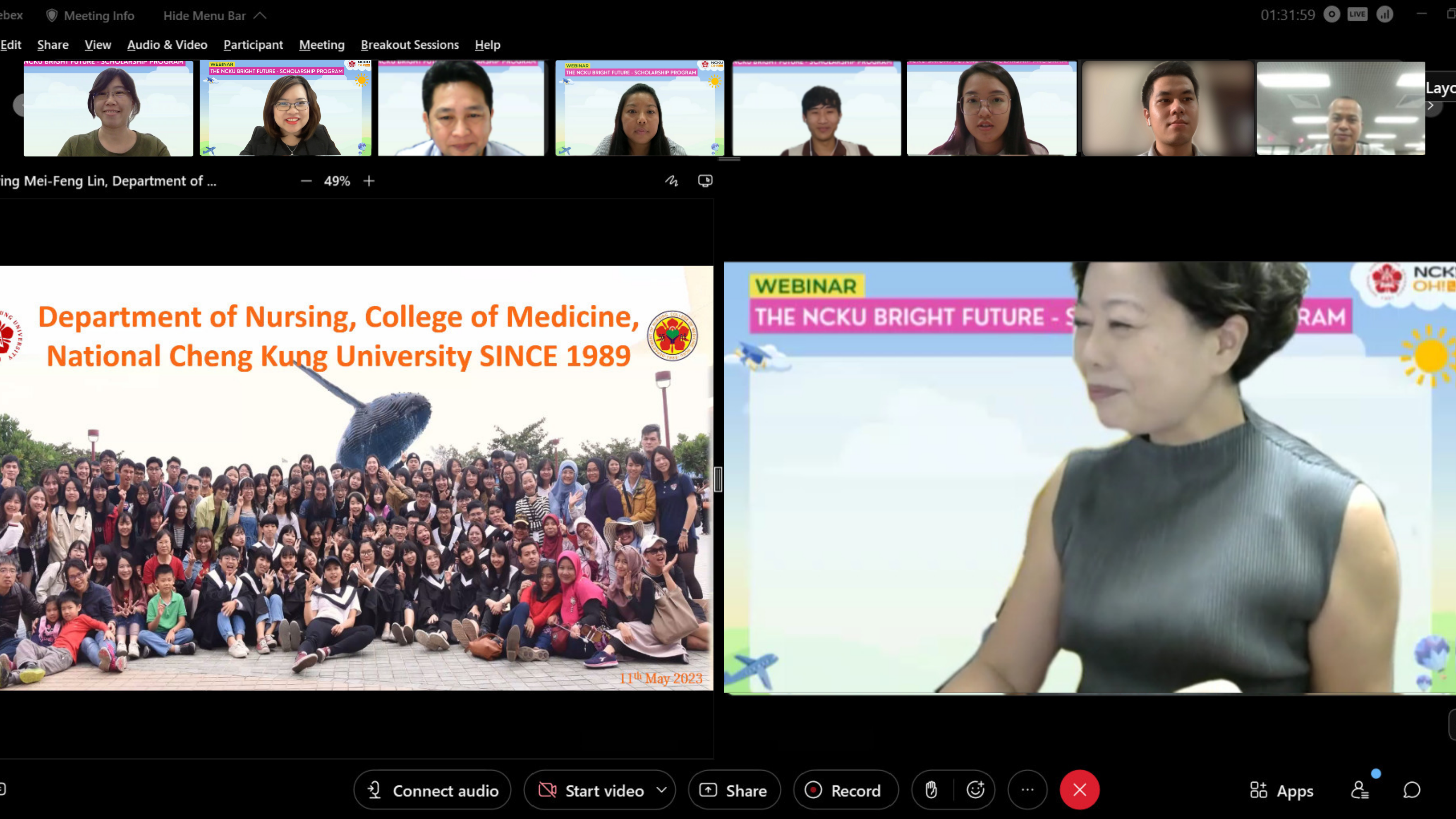 Prof. Mei-Feng Lin energetically presented Department of Nursing scholarship and prospect opportunity
The next presentation was Prof. Wei-Shiun Chang from IMBA, Prof. Wei was delighted to demonstrate the IMBA Faculty and labs. Prof. Chang noticed that Vietnamese students are in the Top 2 of the Number of IMBA Alumni Student Composition. The IMBA requirement for Master's Program includes complete coursework (39 credits), an English proficiency test (TOEIC: 750, TOEFL ibt: 80, IELTS: 6.5) and Final defense. Prof. Chang also shared 3 types of scholarship that students can apply for: MOE, VCS and NCKU Distinguished International Student Scholarship. According to Vietnamese student performance, Prof. Chang expressed that he would love to see more and more Vietnamese students at IMBA.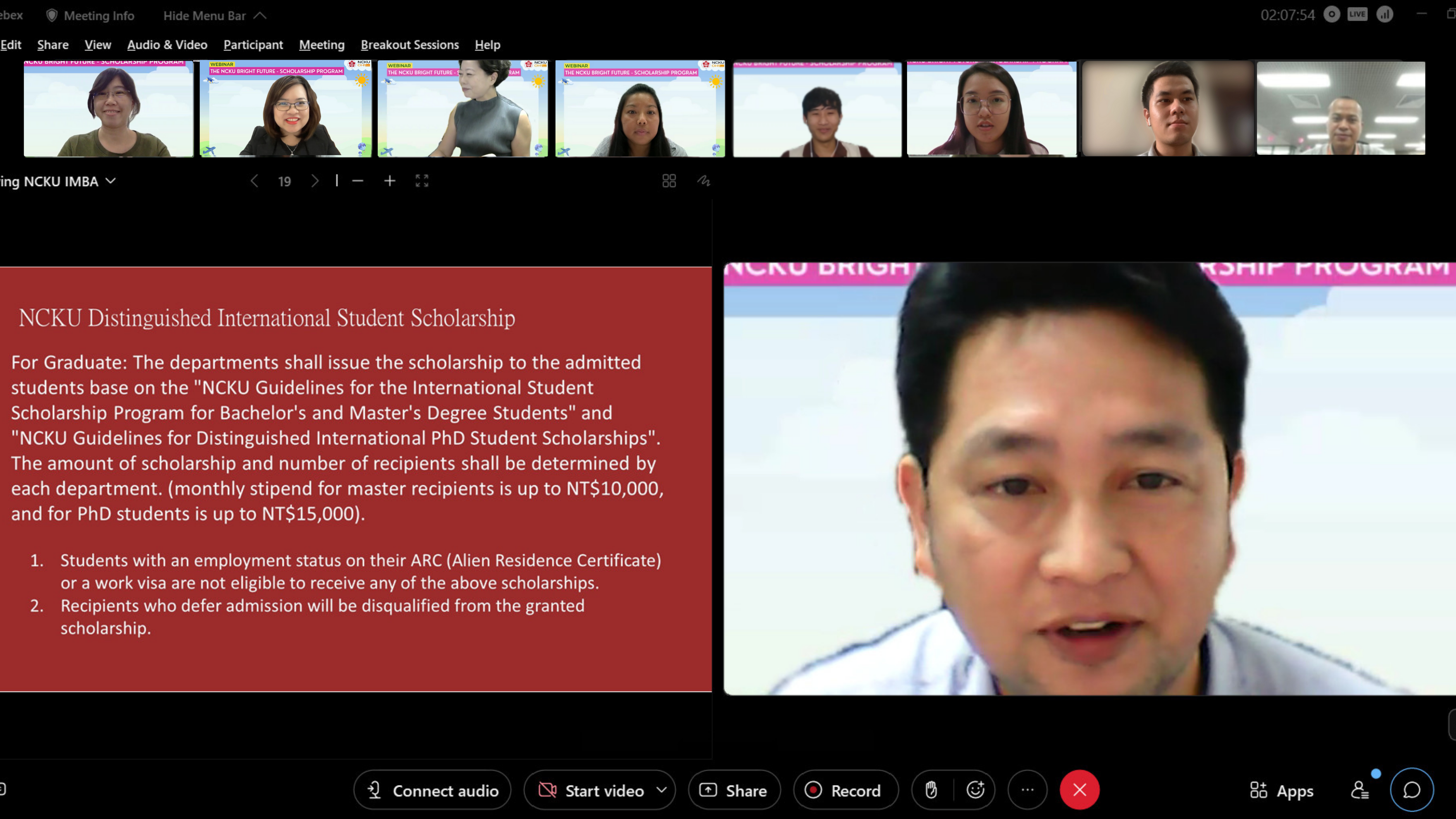 Prof. Wei-Shiun Chang updated informative scholarships of IMBA
Continuously, a representative from the Chinese Language Center (CLC) – Ms. Jia Jia Hou introduced the center and delivered information about long-term, and short-term courses and summer camps. Each year, more than 1,000 foreign students from over 50 different countries come to study Mandarin Chinese at the CLC. Besides, these are quarterly programs to enhance proficient skills such as calligraphy, pop songs, Chinese painting, martial arts and Taichi. In addition, there is a scholarship for the student to study at CLC: NCKU CLC General Scholarship with a subsidy of 36.000 TWD/6 months; the Huayu Enrichment Scholarship supports the student with a subsidy of 25.000 TWD/month. Ms. Jia Jia Hou shared a short video of the CLC facilities and hopes to see more students learning Mandarin.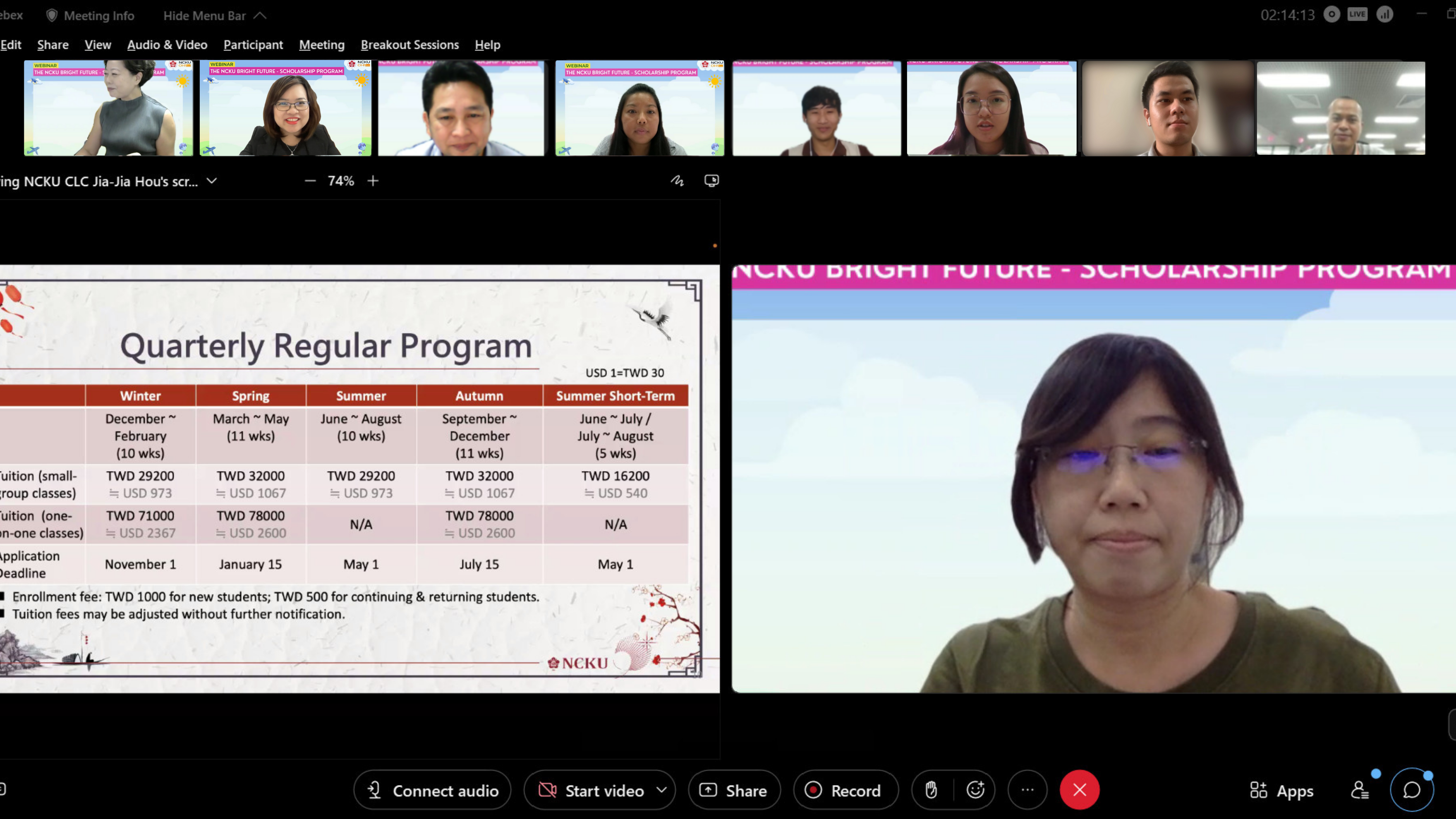 Ms. Jia Jia Hou had a comprehend presentation on scholarships from Chinese Language Center
In the last section of the Webinar with the presence of Mr. Nguyen Ngoc Thang - president of the Vietnamese Students Association (VSA) in NCKU shared information about VSA and his experience during his study at NCKU: learning Chinese, studying, shopping, course enrollment, renew scholarship, research-related… Mr. Thang also shared valuable information from his Department and tips on how to apply for and secure scholarships from different sources. About the part-time jobs, Mr. Thang emphasized that the requirement to do part-time jobs is not to do any illegal jobs and should have a work permit. If not, you could be banned and asked to leave Taiwan immediately. Mr. Thang gave pieces of advice for the new student prioritize: on-campus part-time jobs (from Department, OIA,…), focus on studying Chinese and balance the time between working and studying. Mr. Thang also hopes to see more Vietnamese students come to study at NCKU and join VSA.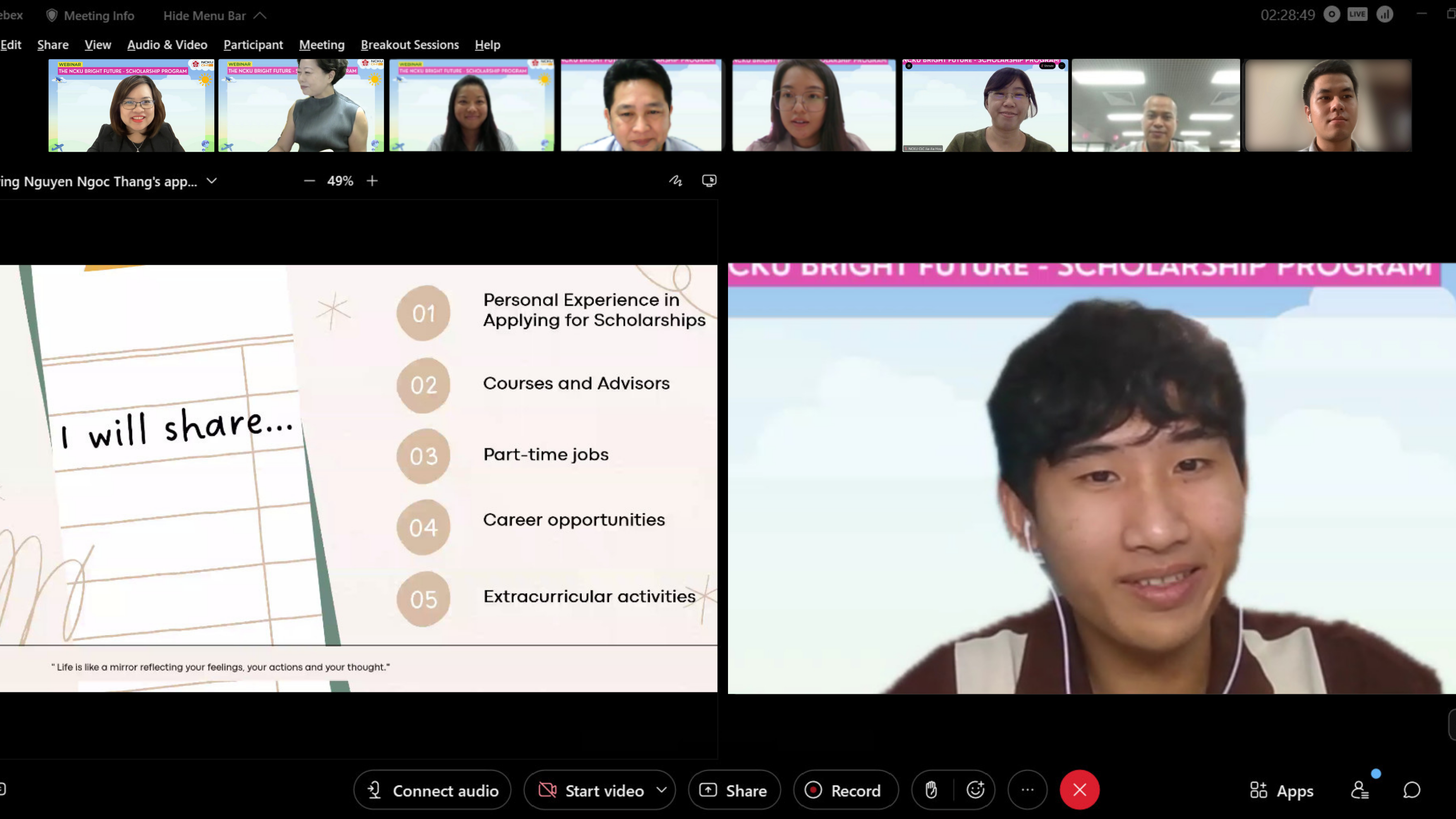 Mr. Nguyen Ngoc Thang shared his grateful experience at NCKU with potential candidates as an international student
The following is a summary of the Q&A session that took place after the webinar was the most interesting to the participants with a lot of questions for our distinguished guests. The participants could ask questions to the speakers via chat or voice. Some of the questions that were asked: Q: Is it required to have a Chinese proficiency test when applying to NCKU?; A: No, it is the requirement for Chinese-taught programs only, such as the Department of Chinese. Q: I have a question considering university transfer policy. In case of having enrolled in another university for a semester, can I apply to transfer to NCKU for the following semester? (Master Program) If so, would I have a chance to apply for a scholarship? A: credit transfer and scholarship evaluation are different issues. If you get admission to NCKU for a degree program, you have a chance to receive all scholarships, including NCKU scholarships. Q: your presentation captivated my attention, does the candidate need to hold a practising certificate at a domestic hospital for application to the Dept. of Nursing? A: yes, a nursing license is required from your home country. Q: I want to apply for the Institute of International Business next Spring. I would like to ask which item is the most important in the admission process (language ability, research plan, GPA...)? If my bachelor's degree is not majored in business related departments, do I have a chance of being admitted? A: All backgrounds of major are welcome to apply for IMBA. And we encourage cross discipline learning, so certainly we love to see students from other fields. Q: Can we select the advisor for the Master's program? Do you have any tips for it? A: NCKU publicizes all of the Professor's information on the website, you can choose a Professor that fits with your research direction and make some conservation with them.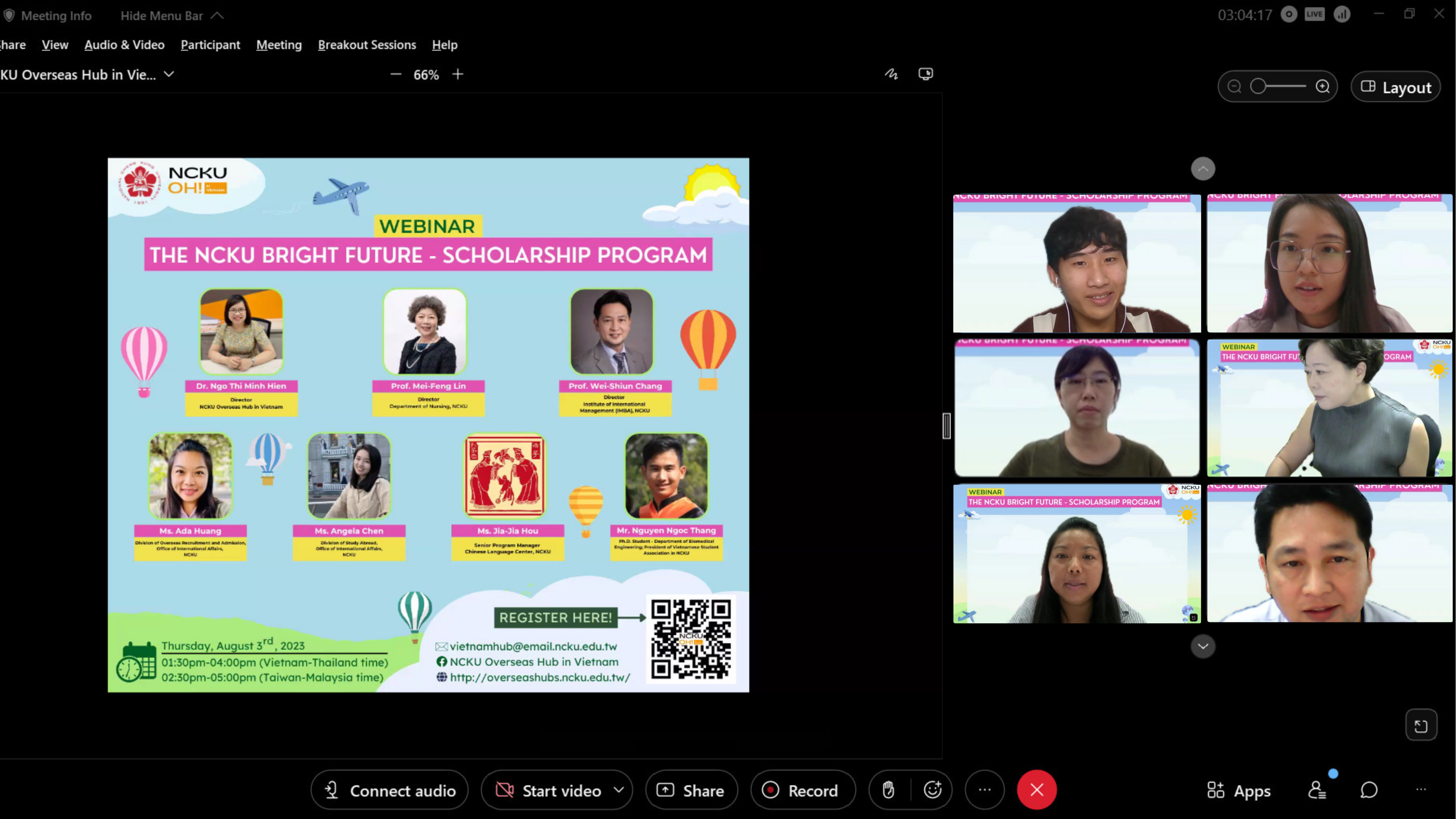 Q&A Interactive Session
The speakers answered the questions in a clear and informative manner, providing useful tips and resources for the participants. Prof. Chang and Prof. Lin also encouraged them to contact them directly for further guidance and support. The webinar ended with a thank you note from the director of the Office of International Affairs, who expressed his appreciation for the speakers and the participants.
After the Q&A, the contest led to the end after 3 hours with a significant number. On Cisco Webex, the Webinar had 82 participants and the Livestream of the webinar on FB reached approximately 1.345 people and 589 views while the livestream occurred. The participants represented a diverse range of nationality such as Vietnam, Taiwan, United States, Philippines, Australia, Japan, South Korea, Myanmar, Germany and India.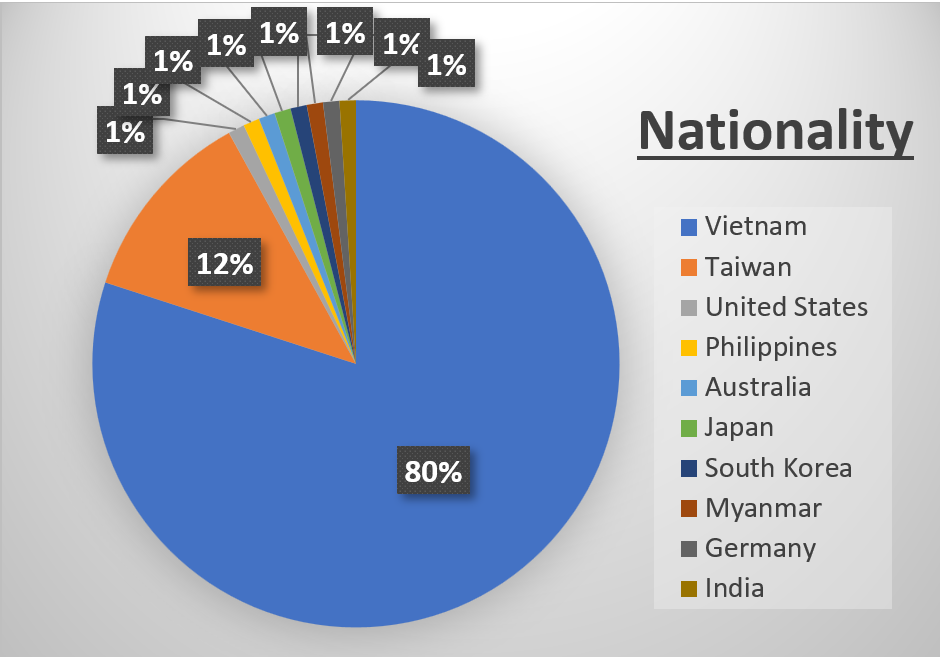 Nationality of Participants
The panelists hoped that the participants could have an overview of the admission, scholarship and Departments of NCKU. NCKU OH also thanks to all pages and groups supporting promoting the event: VSA, Vietnamese Student Association at NCKU,…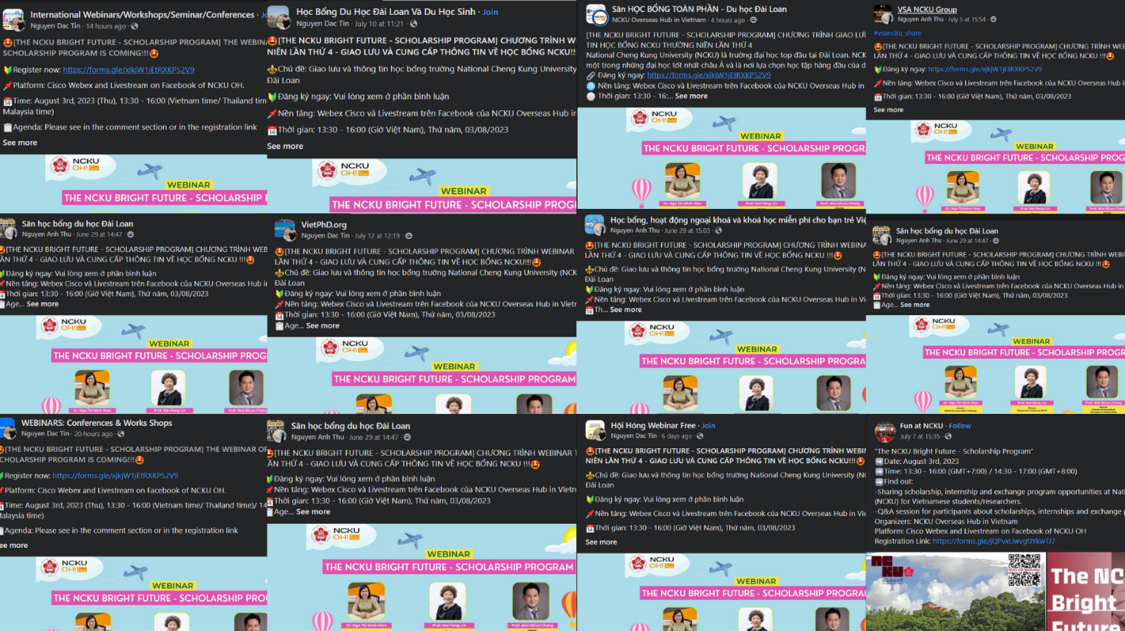 Promotion through the social media
Follow NCKU OH on social media for future events update:
❤️Facebook: https://www.facebook.com/NCKU.OVERSEASHUB.VIETNAM
🧡Twitter: https://twitter.com/nckuohinvietnam
💛Linkedin: https://www.linkedin.com/in/nckuohinvietnam/
💚Youtube: https://www.youtube.com/@nckuohinvietnam