WEBINAR "THE NCKU BRIGHT FUTURE – SCHOLARSHIP PROGRAM"
The 2023 NCKU Fall Admission Scholarship is coming and there are many students in Vietnam interested in getting the scholarship or exchange program. Last year, the Webinar "Achieve Your Dream with NCKU" received many remarkable results: reached 1.166 people and 736 viewers on Facebook of NCKU OH and attracted international viewers from 13 countries: Vietnam, Taiwan, Malaysia, Philippines, USA, Japan, Uganda, Thailand, India, Pakistan, Saudi Arabia, Maldives and Ghana.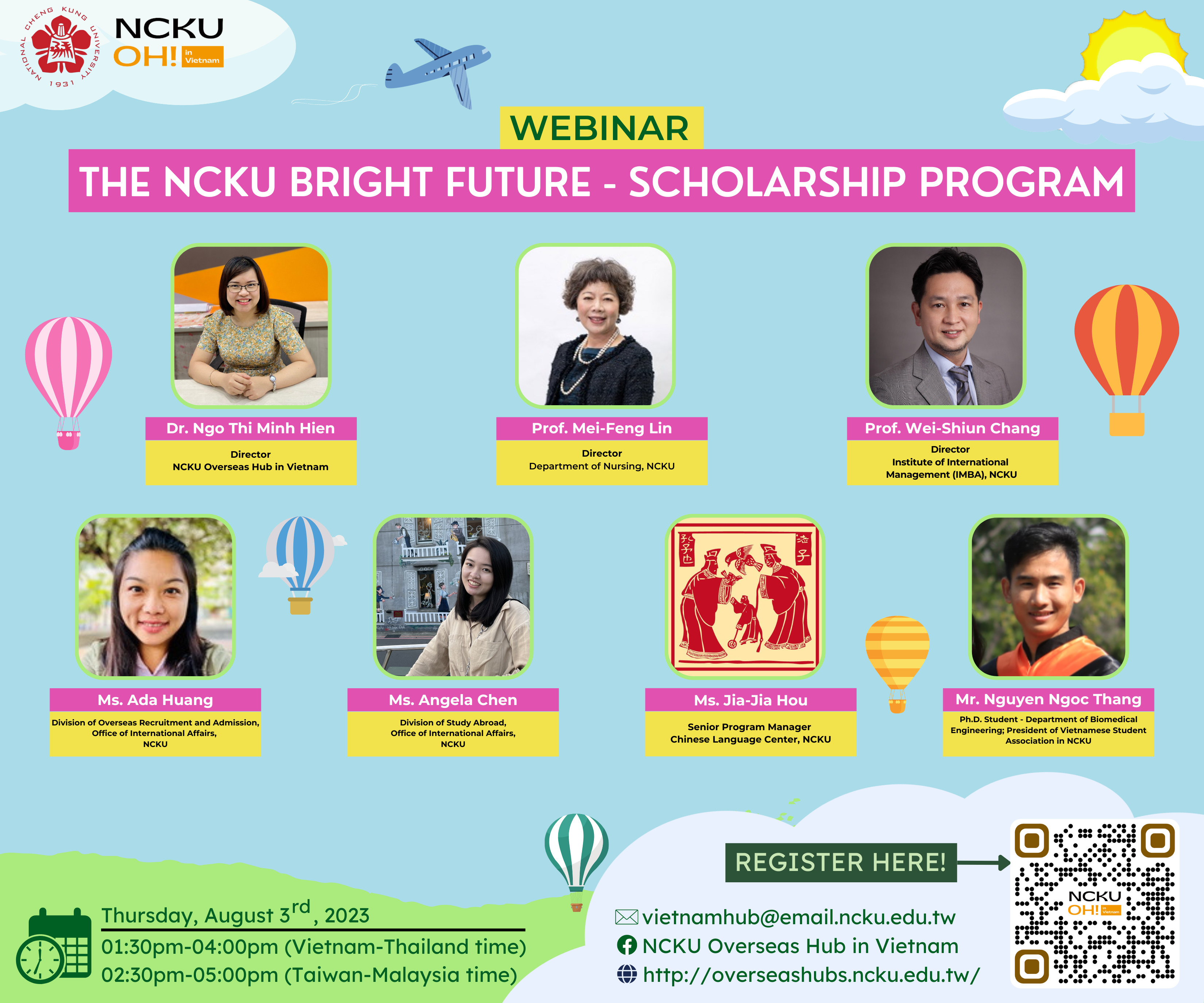 The Poster
Following on from last year's success, National Cheng Kung University (NCKU) and NCKU Overseas Hub in Vietnam (NCKU OH) officially launched a webinar on August 3rd with the theme of the "NCKU BRIGHT FUTURE – SCHOLARSHIP PROGRAM". This Webinar is the annual young talent cultivation program where all the information on admission, scholarships, and exchange programs offered by NCKU is assembled! The Webinar aimed to help students to gain general knowledge about NCKU and provides them with the opportunity to have experience studying in the international environment of NCKU. On top of that, this Webinar was the young talent cultivation program to foster a spirit of learning and development among students and to spark their bright future at NCKU.
Register now:
https://forms.gle/xjkjW1jEtRXKP52V9
Platform:
Cisco Webex and Livestream on Facebook of NCKU OH.
Date &
Time:
August 3rd, 2023 (Thu), 13:30 - 16:00 (Vietnam time/ Thailand time)/ 14:30 – 17:00 (Taiwan time/ Malaysia time)
It was an honor to receive the presence of delegate Professors and Speakers: Dr. Ngo Thi Minh Hien – Director of NCKU Overseas Hub in Vietnam; Ms. Ada Huang – Coordinator of Division of Overseas Recruitment and Admission, Office of International Affairs; Ms. Angela Chen – Coordinator of Division of Study Abroad, Office of International Affairs; Prof. Wei-Shiun Chang – Director of Institute of International Management (IMBA); Ms. Jia Jia Hou – Senior Program Manager of Chinese Language Center; Prof. Mei-Feng Lin – Director of Department of Nursing, NCKU and Mr. Nguyen Ngoc Thang – Ph. D Student, Department of Biomedical Engineering, President of Vietnamese Student Association in NCKU.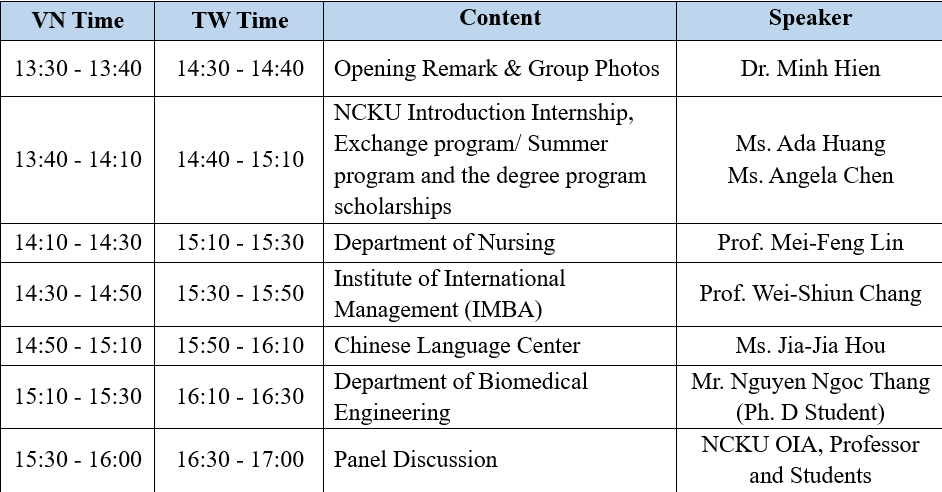 The Agenda
Please visit NCKU OH Facebook Fanpage and Website below to update the latest information about the Webinar and NCKU news:
❤️Facebook: https://www.facebook.com/NCKU.OVERSEASHUB.VIETNAM
🧡Twitter: https://twitter.com/nckuohinvietnam
💛Linkedin: https://www.linkedin.com/in/nckuohinvietnam/
💚Youtube: https://www.youtube.com/@nckuohinvietnam
💙Website: http://overseashubs.ncku.edu.tw/news.php?C=VNhttp://overseashubs.ncku.edu.tw/news.php?C=VN