NCKU Overseas Hub in Vietnam organized the Webinar with the topic "Achieve Your Dream with NCKU" on March 11th, 2022. This Webinar receives many remarkable results as it attracts the attention of people from many different occupations (including 17% from University Staff, 23% from Industry and 60% Student), it reflects the attractiveness of study in NCKU and in Taiwan.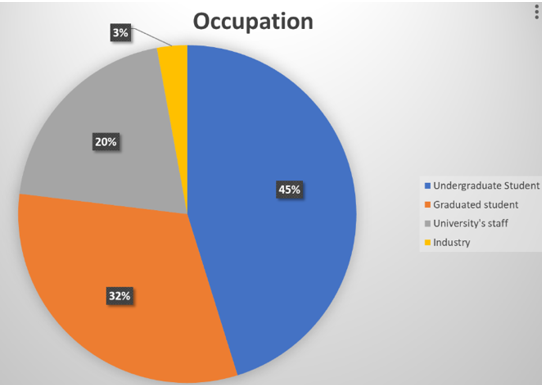 Participant's occupation
Firstly, Dr. Minh Hien – Director of NCKU OH introduced the purpose of the Webinar, delegating guests from the Office of International Affairs; Academy of Innovative Semiconductor and Sustainable Manufacturing, College of Electrical Engineering & Computer Science and College of Planning & Design, NCKU's Alumni and Student.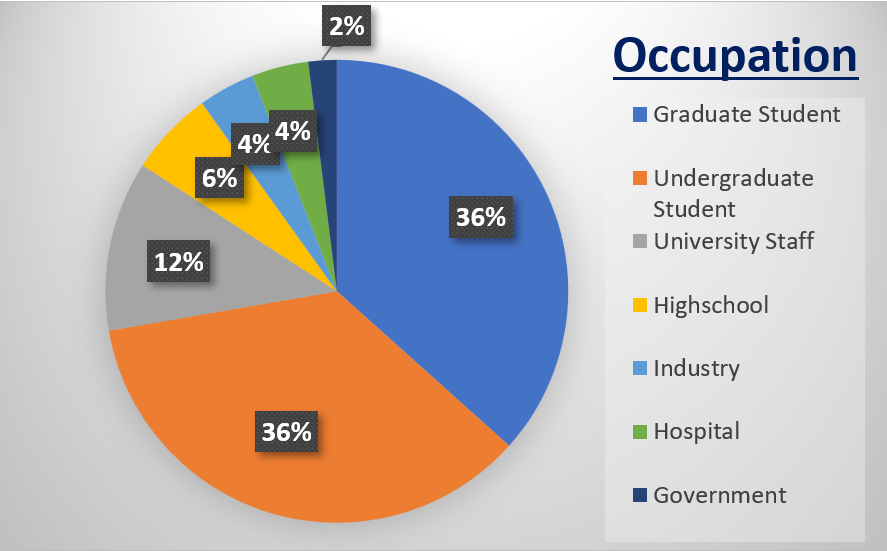 Group Photo
Prof. Yueh-Heng Li continued with the Opening remark and introduced NCKU to all of the participants with some special features: 9 affiliated Colleges and 1 new Academy with 43 undergraduate programs, 36 independent graduate institutes and 9-degree programs. NCKU values holistic education, providing innovative and dynamic teaching that blends large-scale and small-class research and emphasizes interdisciplinary learning. Prof. Li also expressed his joy when he noticed that the Webinar received a lot of attention in Vietnam.
Continuously, Ms. Ada Huang showed more details of NCKU including: NCKU has a strong teaching staff up to 1.346 lecturers, 2.172 staff, a number of undergraduate students up to 11.441 students, 8.514 Master's students and 1.818 Ph.D. students. With more than 20.000 students, NCKU has 2.119 international, overseas and mainland Chinese students, from more than 76 countries or districts and 5 continents. As one of the top Universities in Taiwan, NCKU has outstanding rankings such as: Top 1 Impact Rankings in Asia (According to The World University Rankings); Top 41 QS University Rankings Asia; Top 252 QS World University Rankings. Moreover, Ms. Ada Huang clearly shared about scholarship programs like Spring and Fall semester programs with different types of scholarships from the Taiwan government (MOE, MOFA, MOST, etc). Ms. Ada Huang also paid attention to the candidates about the important timeline as well as the necessary documents to prepare the application in the most careful way.
The speech of Ms. Ada Huang - OIA
The next part is the speech of Prof. Pau-Choo Chung - Dean of College of Electrical Engineering & Computer Science (EECS). EECS has 2 departments: Dept. of Electrical Engineering & Dept. of Computer Science and Information Engineering. Prof. Chung proudly introduced to the participants that EECS was ranked No.1 in Electrical Engineering and No.3 in Computer Science in Taiwan. 19 Faculty Members at EECS Featured in World's Top 2% Scientists 2020. According to QS World University Rankings, EECS ranked 141st in the Electrical & Electronic Engineering field and ranked 164th in Computer Science & Information Systems field.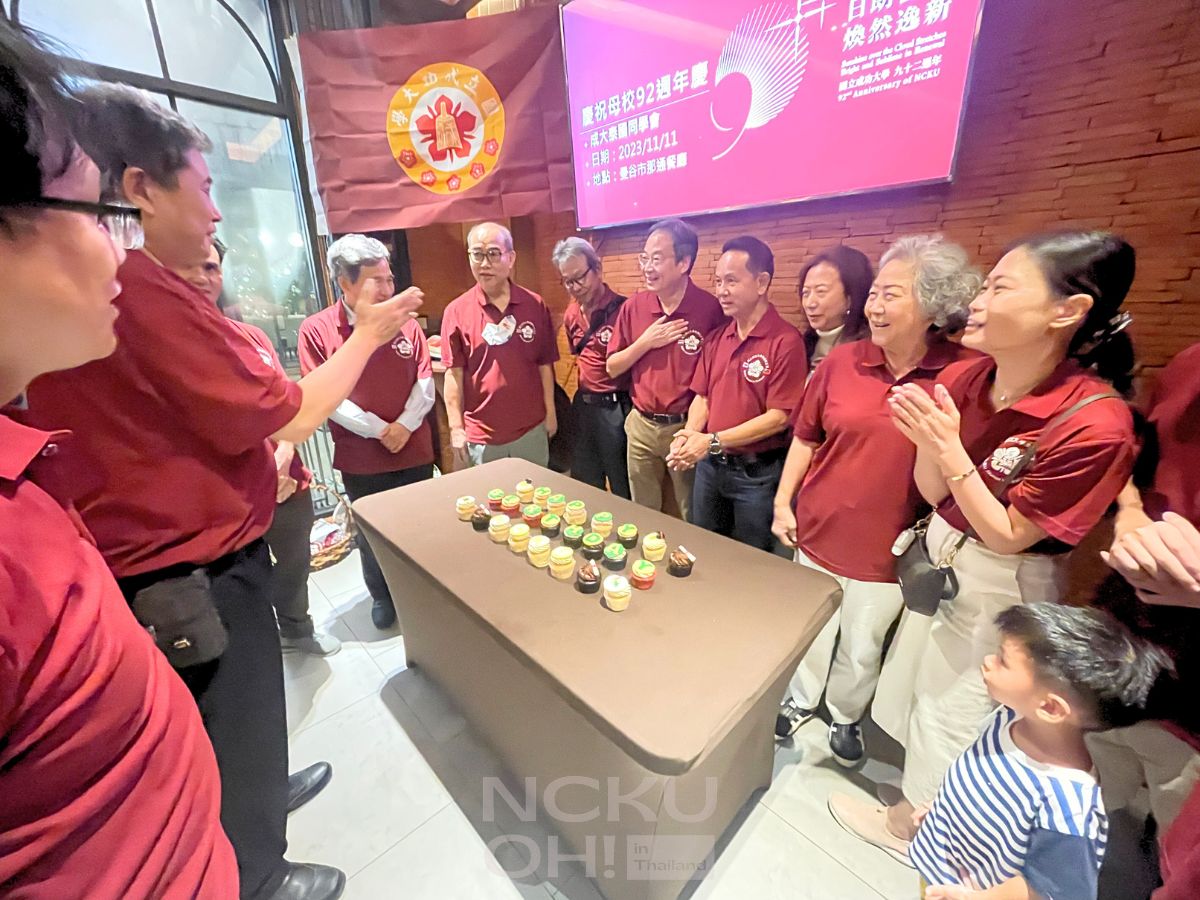 Prof. Pau-Choo Chung introduced the Courses taught in English in EECS
Next, Prof. Chung-Ching Huang - College of Planning & Design introduced the overview of this College. The College buildings are mainly located in Kuang-Fu Campus, surrounded by Banyan Tree Garden and history buildings from the Japanese colonial period. Prof. Huang introduced College Reputations & Achievements such as: International Ranking – Top 60 Design School (Business Week 2007); International Ranking – Top 101-150 Architecture, Art & Design (QS 2021); National Ranking – Top 1 Colleges of Planning & Design; etc.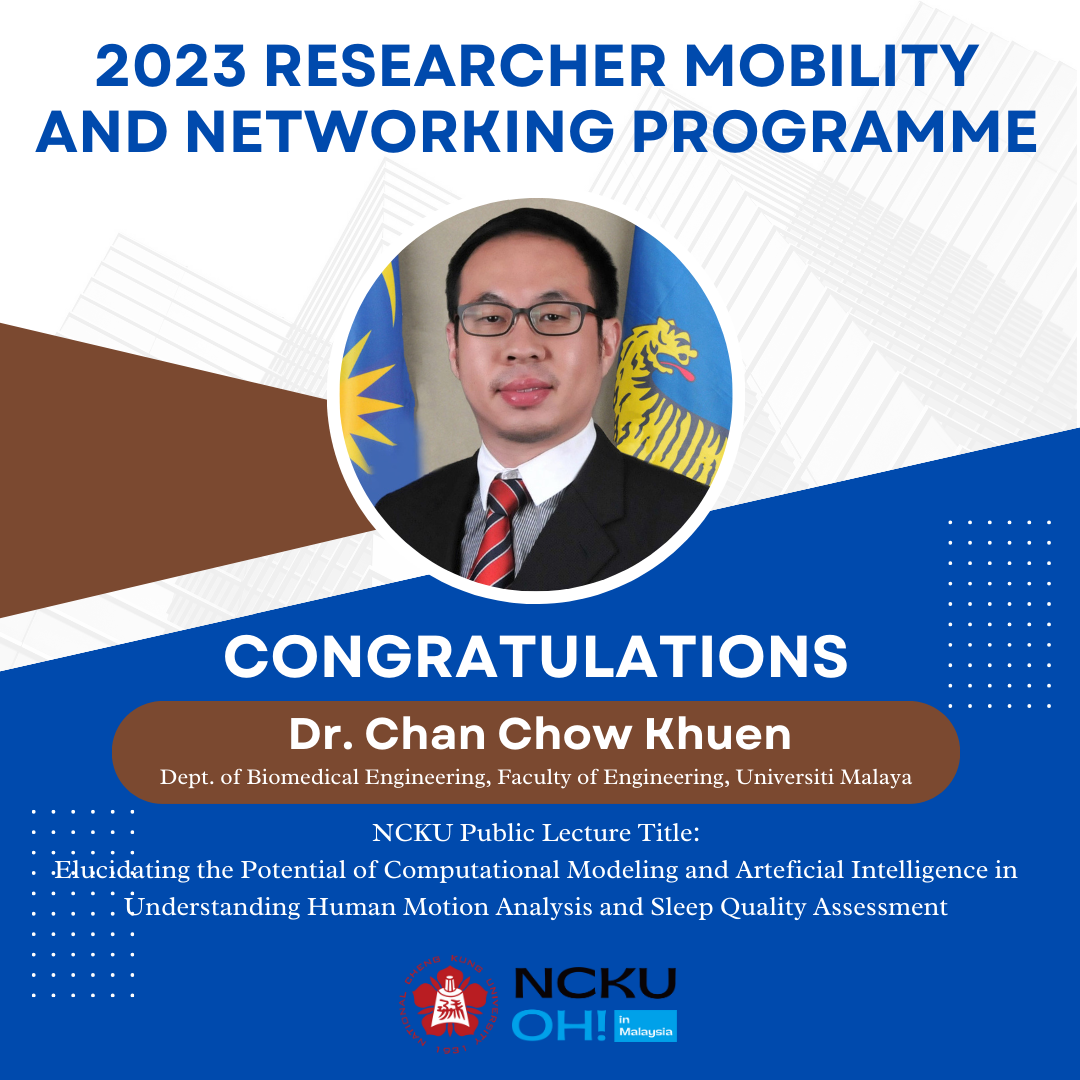 Asst. Prof. Chung-Ching Huang enthusiastically shared College of Planning & Design's Reputations & Achievements
In the next presentation, Prof. Jen-Sue Chen showed the new establishment of Academy of Innovative Semiconductor and Sustainable Manufacturing (AISSM) with the participation of President Tsai-Ing Wen last year. With 935 English-taught courses are provided, Prof. Chen welcomes all students in Vietnam with an Engineering background to study at AISSM. Scholarships for International Students of AISSM are very attractive: NT$20.000 for 12 months per year for Master Students and NT$40.000 for 12 months per year for Ph.D. Students. The special feature of this scholarship is that it is provided by the Academy and not by NCKU. This is really a great opportunity for International students.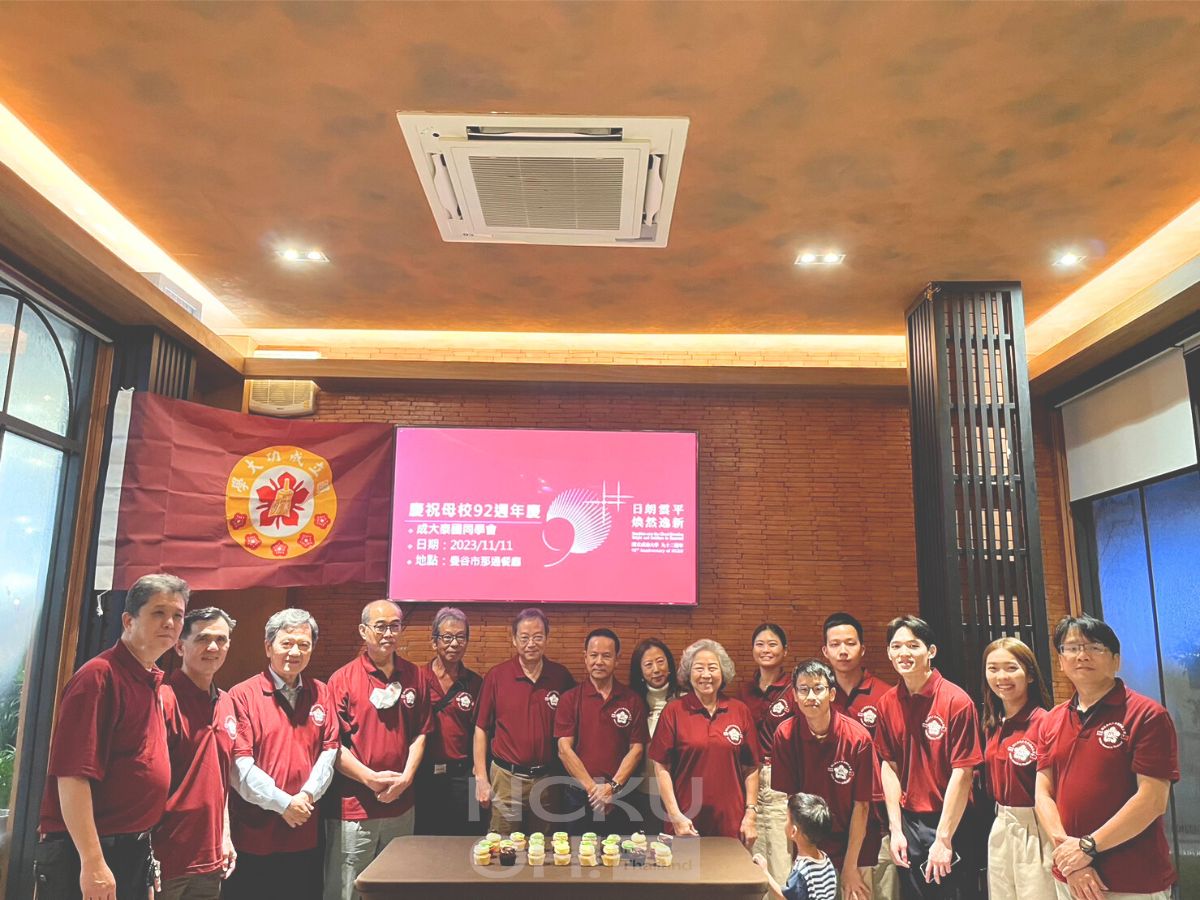 Prof. Jen-Sue Chen helped the viewer get more information about AISSM
The next presentation is the sharing of Dr. Ha Quang An - Lecturer, School of International Business & Marketing, University of Economics Ho Chi Minh City. Dr. An was an IMBA Master's student (2010-2012) and an IMBA Ph.D. student (2015-2019) at NCKU. He shared to participants about how to fund International studies including: School Official Scholarship; Assist to Professor and Excellent Student Scholarship. At the end of his presentation, Dr. An gave his advice to the participants who intend to study at NCKU: try your best to study, communicate and connect with Professors, and manage time effectively.
The speech of Dr. Ha Quang An
In the last speech, Ms. Do Tuyet Nhi - Ph.D. Student, NCKU Dept. of Biomedical Engineering talked about her experience during the study in NCKU. In addition, she also shared her interesting life in Taiwan: learning Chinese, making new international friends and cultural discovery.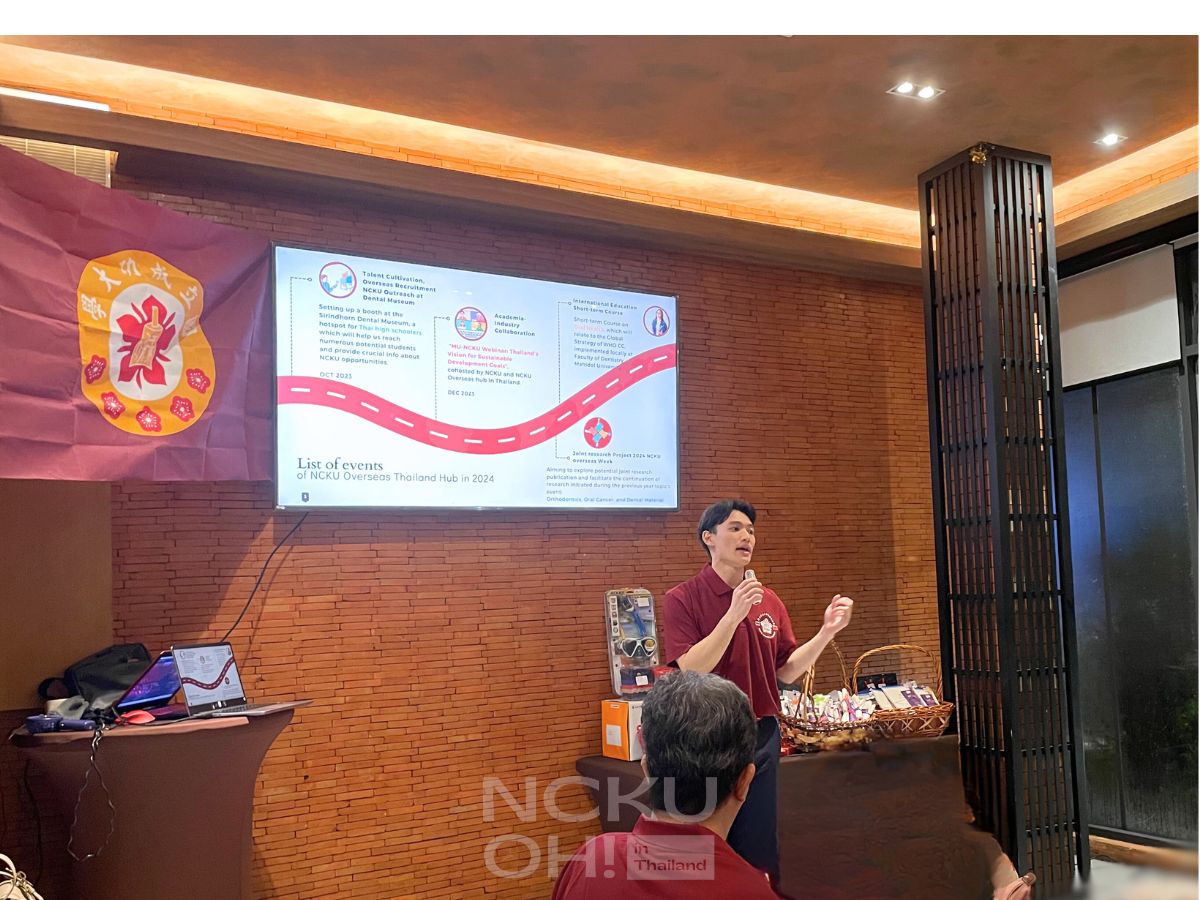 Ms. Do Tuyet Nhi shared her experience
After the presentation of the speakers was the Q&A part. Ms. Ada Huang received the question focus in the administration process, such as: the candidates who graduated but haven't yet got the diploma, whether they apply for the fall semester or the delay in receiving the ARC will affect the scholarship payment time or not; the Chinese language is the requirement or optional subject? Prof. Pau-Choo Chung got the questions related to the requirement to get the extra scholarship from the EECS and the difficulties that students of this College may face during their study and research. Prof. Jen-Sue Chen from the AISSM received a lot of questions related to the background that required to apply, the core subjects and elective subjects, the documents that the candidates should provide in enhancing the potential to be selected by the Academy. Prof. Chung Ching Huang received the question related to the Internship opportunities of the students during their study in the College of Planning & Design and the entrance exam to study the Master in the College. The question about how to study effectively in NCKU, what are the advantages of NCKU compared to other Institutions, the important skill needs to improve, the difficulties during study and research have also been asked to Dr. Ha Quang An and Ms. Do Tuyet Nhi.
At the end of the Webinar, the panelists hoped that the viewers could have an overview of NCKU and NCKU's Scholarship information. In addition, this Webinar brought some outstanding results:
In Cisco Webex, the Webinar had 72 participants.
The Livestream of the webinar on FB reached approximately 601 people, got 460 views within 3 days, and had a sharply dramatic increase. Not only in Vietnam, but this Webinar also attracted international viewers from 13 countries like Taiwan, Malaysia, Philippines, USA, Japan, Uganda, Thailand, India, Pakistan, Saudi Arabia, Australia, Maldives and Ghana.
This Webinar becomes an annual event that provides useful and updated information for the candidates who are interested in study abroad and bring more changes to achieve their dream in NCKU.
The interaction of the promoted post in Vietnam Hub Fanpage
Webinar attracted International viewers